Societas Rosicruciana in Anglia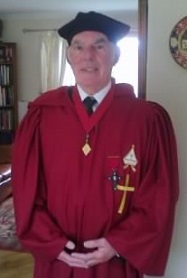 As the Chief Adept of the Province of Southern England of the Societas Rosicruciana in Anglia I would like to welcome you to our Website which I hope you will find both interesting and informative.
I would exhalt all the Members within the Province to take full advantage of the comprehensive information contained. If you are approaching an imminent Convocation and find yourself without a Paper, why not consider inviting a Frater from another College as a guest to deliver his own. Many varied and fascinating subjects are covered and available for your study and further research.
Do make sure you register as a user as you will need to login to access all the features and content.


Right Worthy Frater Adrian T. Jones ACR 9°
 So what is the SRIA?
The Societas Rosicruciana in Anglia (Society of Rosicrucians in England) is an independent Christian society. Admission is limited to Master Masons who are subscribing members of a Lodge under the Grand Lodge of England or a jurisdiction in amity with Grand Lodge and who accept and believe in the fundamental principles of the Trinitarian Christian faith.
The Societas Rosicruciana in Anglia does not, however, constitute another interesting degree in Freemasonry, to be acquired in the course of ordinary Masonic progress. It is something beyond and outside Freemasonry. More and more Freemasons are looking to the Christian degrees for answers to the questions confronted during their daily advancement in Masonic knowledge.
Read more: Welcome to the Province of Southern England SRIA Website